AV-18 AVB Sanitary Liquid Ring Pumps
Application:
The AVB Series is a self-priming pump specially designed for pumping liquids with entrained air or gas. The pump is widely used in the food, chemical, and pharmaceutical industries. It can also be used for CIP-return.
Standard Design:
All product contact surfaces are 316L stainless steel with 32Ra finish. Other parts are 304 stainless. Seals are EPDM or silicone.
Single or double mechanical seal available.
Adapters for AVB-167S, 192S and 203S series are made of cast iron, zinc coated and lacquered to ensure high corrosion resistant.
Efficient removal of CIP solution from process equipment.
Reduced process and CIP time vs. standard centrifugal pumps.
Details Of Mechanical Seal: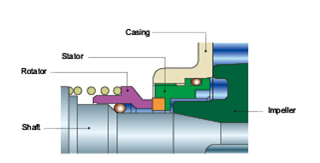 Technical Parameter:
Maximum Flow Rate: 30m³/h, 132GPM
Maximum Discharge Head: 30m
Maximum Pressure: 3 bar (43psi)
Temperature range: -4° F to 248° F (EPDM)
Maximum Revolution: 1752 RPM
Maximum Suction Height: 8m, 22ft.
Motor Type: B35, frequency 50Hz/60Hz.
Materials:
Product wetted: AISI 316L/304, others 304 stainless.
Gasket: EPDM
Mechanical seal: SIC/SIC/EPDM
Options:
Mechanical seal: C/SIC/EPDM
Gasket: FPM (Viton), NBR
Inlet/outlet connections: Clamp, male threaded, flange, DIN, SMS, 3A, RJT.
Ordering-Please State The Following When Ordering:
Pump type
Voltage and frequency
Connections
Flow rate, pressure and temperature
Density and viscosity of product
Options
Flow Chart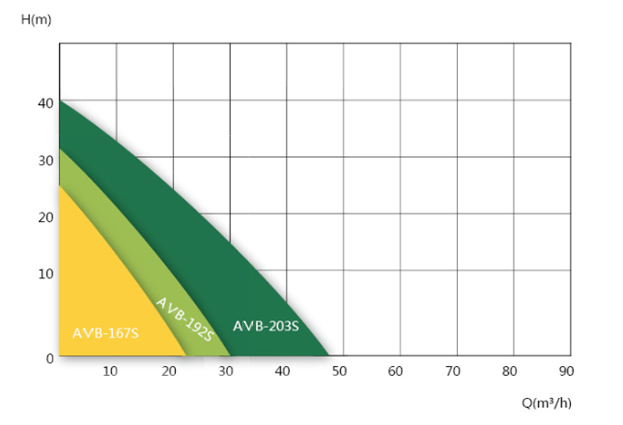 Frequency: 50 Hz
Revolution: 3000 rpm