1'' Sanitary Check Valves with Butt-weld Ends AV-3W AISI-316L
Application
Sanitary check valve, also known as "non-return valve", is designed for use in process piping installations to prevent reverse flow. AV-3C series is a spring check valve with tri-clamp ends.
Materials
Materials: AISI-316L
Size: 1''
O ring and gasket: EPDM, comply with FDA 21CFR177.2600
Options
O ring and gaskets can be Silicone or Viton, all complying with FDA 21CFR177.2600.
Connection ends: butt-welded, sanitary clamp, threaded, flanged, union or others upon request.
Working Principle
A check valve opens when the pressure below the valve plug exceeds the pressure above the valve plug and the spring force. The valve close when pressure equalization has been achieved.
Design Features
The stainless steel valve body ensures nonporous, smooth surfaces and dimensionally stable construction. The valve body is in two parts, assembled by means of a standard clamp and sealed with a standard gasket. The self draining design of the lower valve body enables flushing of the product. Ribbed construction of the stainless steel disc resists heavy pressure hammer, minimize the resistance to flow and also serves as a guide to the valve plug. All seats and seals are made from FDA approved materials.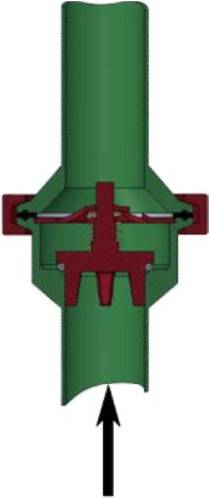 Above picture shows the default configuration. Horizontal positions are also permitted. The four guide legs of the valve ensure good alignment.


Technical Specification
Max. pressure: 10bar (145psi)
Opening pressure: 0.3bar (DN25) 0.2bar (DN32-40) 0.1bar (DN50-100). The opening pressure can be set as customers require.
Working temperature: 14 ~ 248°F (-10 ~ 120°C), EPDM
Technical Parameters

Steel material

Product wetted parts

AISI 316L / 304
(1.4306 / 1.4404)

Provided with material inspection report

Other steel parts

AISI 304

Seal material

Standard

EPDM

All seal materials comply with the FDA 21CFR117.2600

Options

VMQ / Viton

Pressure

Working pressure

≤10bar (145psi)

Temperature

Working temperature

EPDM: 14 ~ 248°F (-10 ~ 120°C)
VMQ: -58 ~ 356°F (-50 ~ +180°C)
FPM: -22 ~ 446°F (-30 ~ +230°C)

Sterilization temperature

150°C (Max. 20 min)

Surface treatment

Inside surface treatment

Ra 16 ~ 32µin (0.4 ~ 0.8µm)

Outside surface treatment

Ra 32 ~ 64µin (0.8 ~ 1.6µm)

Connection

The welding diameter

Welding end:
DIN 11850-2 with 11850-1 / SMS / 3A / ISO Series, etc.

End connections: butt-welded, sanitary clamp, male and female threaded, flanged, etc.